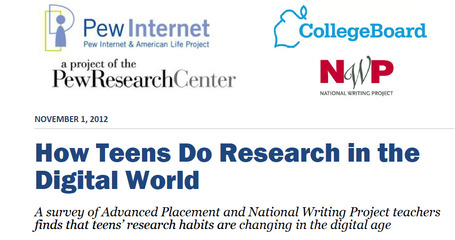 According to this survey of teachers, conducted by the Pew Research Center's Internet & American Life Project in collaboration with the College Board and the National Writing Project, the internet has opened up a vast world of information for today's students, yet students' digital literacy skills have yet to catch up:
Virtually all (99%) AP and NWP teachers in this study agree with the notion that "the internet enables students to access a wider range of resources than would otherwise be available," and 65% agree that "the internet makes today's students more self-sufficient researchers."
At the same time, 76% of teachers surveyed "strongly agree" with the assertion that internet search engines have conditioned students to expect to be able to find information quickly and easily.
Large majorities also agree with the notion that the amount of information available online today is overwhelming to most students (83%) and that today's digital technologies discourage students from using a wide range of sources when conducting research (71%).
Fewer teachers, but still a majority of this sample (60%), agree with the assertion that today's technologies make it harder for students to find credible sources of information.
Given these concerns, it is not surprising that 47% of these teachers strongly agree and another 44% somewhat believe that courses and content focusing on digital literacy should be incorporated into every school's curriculum.
Survey Questions: http://bit.ly/U39pGG
Full Report: http://bit.ly/SAQEbr