Senate House Library | Goldsmiths, University of London
Zaman, üniversitelerin öğrencisiyle-yöneticisiyle kitap ve kütüphane ile muteber olmaktan çoktan çıktığı, neredeyse birer minyatür AVM olmaya hevesli hale geldikleri bir zaman…
Altı yıla yakın süre Londra Üniversitesi'nde okudum; SOAS'ta (School of Oriental and African Studies). Aradan çeyrek asır geçti ve dönüp ne kaldığına baktığımda Londra'da yüksek-lisans ve doktora ile geçen o günlerden geriye, zihnimde en çok iki mekân, hem de gözlerimde yaşlarla beliriyor.
Birisi SOAS kütüphanesi…
Diğeri, SOAS'ın iki adım ötesinde (Üniversite'nin Rektörlük binası denilebilecek) Senate House'ın kütüphanesi.
Ağır bir çalışma programının parçası olarak sözlü sunumlar-yazılı ödevler hazırlama derdinde veya sınıfta hızla akıp giden zaman içinde not edemeyip anlayamadıklarımı telafi yolunda ders öncesinde-sonrasında, sabahtan akşama, hafta sonları da dâhil, vaktimi, hatta neredeyse ömrümü bu iki mekânda geçirdim ben…
"Bilgi tapınağı" bu iki mekânda…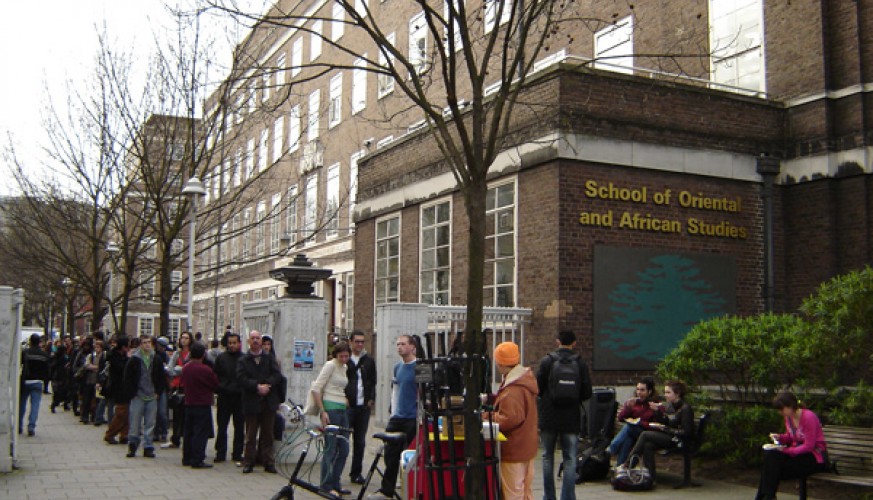 School of Oriental and African Studies (SOAS)
Kütüphaneler bilgi tapınaklarıdır; duvarlarında ibadetinizin öznesi olarak kitapların durduğu tapınaklar…*
Bana Londra'nın kokusunu soracak olsanız, yukarıda sözünü ettiğim iki kütüphanenin havasında soluduğum ahşap-kâğıt-cilt harmanından çıkan kokudur diyebilirim!..
Kırk yıllık üniversite yaşantımın en zor, en unutulmaz, en eşsiz, en meşakkatli ve/fakat en muhteşem dönemiydi. Üniversitenin "kitap ve kütüphane" olduğunu, kitapsız-kütüphanesiz üniversitenin bir hiç olduğunu iliklerime kadar deneyimlediğim yıllardı.
Bu deneyimin daha özel anlam ve önemi, bahsettiğim kütüphanelerin, yabancı bir ülkede yalnızlık, kaybolmuşluk, yetersizlik hislerime ve başarısızlık kaygılarıma sessiz-sedasız hem kulak vermiş, hem de bunların zamanla aşılmasında cesaretlendirici rol oynamış birer sığınak olmalarıyla da bağlantılıdır!..
Kuşkusuz Türkiye'de 1970'lerin sonundan itibaren başlayan üniversite serüvenim de kütüphanesiz akıp gitmiş değildir. DTCF Kütüphanesi, ODTÜ Kütüphanesi, Hacettepe'nin Beytepe Kütüphanesi… Onlar da kütüphane ve kitabın, üniversitenin olmazsa olmaz bileşenleri olduğu gerçeğini bana hissettirmişlerdir.
Beytepe-Antropoloji Bölümü'ndeki odasında kendisiyle tanışmamıza vesile ilk diyaloğumuzda bir konu hakkında bilgisine başvurduğum hocam Prof. Bozkurt Güvenç'in şu cümleleri de dün gibi aklımda: "Kütüphaneye git, GN raflarını bul, aradıkların o raflarda dizili kitaplarda bol miktarda karşına çıkacak!.."
SOAS'ta "bilgiye iman"ın mabedi olmanın yanı sıra bana adeta birer "ruhsal terapi ünitesi" olmuş kütüphaneler, ülkeme döndükten sonra da akademik serüvenimin ayrılmaz parçası olageldi tabii ki. Ankara'da Bilkent Kütüphanesi'nin neredeyse SOAS'ı aratmayacak bir kapasite ile karşıma çıkmasından da nasıl büyük bir heyecan ve mutluluk duyduğumu hiç unutmuyorum!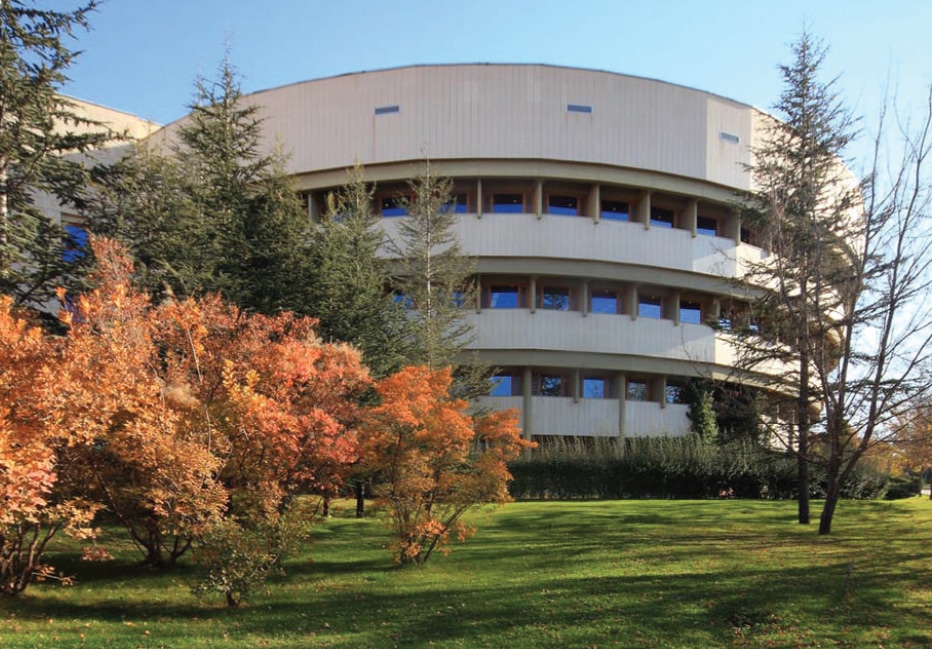 Bilkent Üniversitesi Kütüphanesi
Sözün özü, üniversite, kütüphaneyle-kitapla muteberdir. Kitapsız üniversite olmaz.
Öyle mi?!
Hayır, öyleyken böyle ki geçen hafta Birgün gazetesinden Mustafa Kömüş'ün, "YÖK 2018 İzleme ve Değerlendirme Raporları" temelinde hazırladığı dehşet habere göre bu ülkedeki 104 üniversitede öğrenci başına düşen kitap sayısı 5'in altında!..
Ve bu ülkede tabelalarında "üniversite" yazan 4 "yapı"da öğrenci başına bir kitap dahi düşmüyor.
Bunlardan Akdeniz Üniversitesi'nde okuyan öğrenci Yunus Yanık, "Ödevlerimiz için araştırma yapmak istediğimizde kitap bulamıyoruz; herhangi bir konuyu merak edip kütüphaneye bakmak istesek bile yetersiz kalıyor" demiş.
Tabii bu, madalyonun bir yüzü ve Yunus gibi bir öğrenci bulunca öpüp başımıza koyacak noktada olduğumuz da bir gerçek.
Çünkü madalyonun bir yüzünde öğrenci başına 1-2 ya da 3-4 kitap düşen üniversiteler varsa, diğer yüzünde de hayatı boyunca bir kitap dahi okumamış, kitapla hiç mi hiç işi olmayan "üniversite öğrencileri" var.
Bizzat şahidim, ders verdiğim vakıf üniversitesinde bir sosyoloji bölümü öğrencisinin, hazırlanmasını istediğim seminerler için kitap önerileri karşısında, "Ben şu kitap okumayı bir türlü sevemedim gitti" diye tepki verişine…
Bir başka akademisyenden de onun çalıştığı eğitim fakültesine gelmiş bir öğrencinin kendisine, "Ben kitap okumakla bir şey olacağına inanmıyorum" dediğini duymuşluğum var.
Ve nihayet, yukarıda da bahsettiğim hocam, ömrü kâğıt-kalem, kitap, öğrenme ve öğretme ile geçmiş Prof. Güvenç'in üniversiteye son noktayı nasıl talihsiz şekilde, bir öğrencinin şu sözlerine muhatap olarak koyduğunu daha önce de aktarmıştım:
"Hocam biz buraya kitap okumaya değil, diploma almaya geldik."
Zaman, üniversitelerin öğrencisiyle-yöneticisiyle kitap ve kütüphane ile muteber olmaktan çıktığı, neredeyse birer minyatür AVM olmaya hevesli hale geldikleri bir zaman…
Mesela bir mütevelli heyet başkanının, tanıtım programında kendisine üniversitesinin imkanlarıyla ilgili sorulan soruya, "Bizde Starbucks var" cevabı vermişliği vakidir!..
Bakıyorum şimdi o üniversiteye, öğrenci başına düşen kitap sayısı 2,5 dolaylarında…
"Starbucks"ıyla övünen, kitapla ilişkisi "iki-buçukluk" üniversiteler!..
Önceki yazımda açıklama anahtarı olarak kullandığım kavramı burada da işlerliğe sokmak gerekirse, "simülatif" üniversiteler…
Yani, olmayan bir şeyin var gibi gösterildiği üniversiteler…
Öyle ya, yukarıda aktardık; kitabın olmadığı yerde üniversite olur mu? Yok, olmaz.
"Amma ve lakin bizde Starbucks var!.."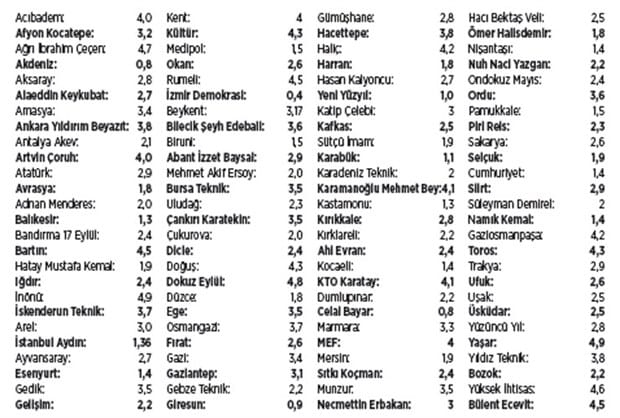 Öğrenci başına 5'ten az kitap düşen üniversiteler
Listeye bakıyorum, Hacettepe, Gazi gibi köklü üniversitelerin kitap sayısı bakımından şaşırtıcı-ürpertici durumunun yanı sıra, iktidarın göz boyamak, sayısal cazibe yaratmak için "üniversite" adı altında açtığı bir dolu "inşaat" art arda karşımızda.
Bana çok acınası gelen bir başka nokta da bu "binalar" isimlendirilirken "milli-manevi" etki ve izlenim yaratma yolunda kullanılmış şahsiyetlerin adlarının yanında, adeta onların kemiklerini sızlatacak mahiyette karşımıza çıkan "kitapsızlık" hali…
Söz gelimi "Atatürk" Üniversitesi'nde öğrenci başı kitap sayısı 2,9.
"Alaeddin Keykubat"ta 2,7… "Adnan Menderes"te 2,0… "Celal Bayar"da 0,8… "Mehmet Akif" ve "Süleyman Demirel"de 2… "Necmettin Erbakan"da 3… "Sütçü İmam"da 1,9… "Hacı Bektaş"ta 2,5… "Bülent Ecevit"te 4,5…
Nihayet, en taze örnek olarak, 15 Temmuz kanlı darbe girişiminde hayatını kaybeden ve iktidarın alabildiğine simgesel suistimale uğrattığı Ömer Halisdemir'in adıyla açılmış olanda da 1,8.
Sonuç gayet açık. Üniversitelerimiz de simülasyon, milliyetçiliğimiz de maneviyatımız da…
---
* Bilgi tapınakları" tabirini, Ahmet Ertuğ ve Friedrich Krinzinger'in tipografik olduğu kadar fotografik bakımdan da muhteşem bir içerikle karşımıza çıkan şu çok kıymetli eserlerinin adından hareketle kullanıyorum: Temples of Knowledge: Historical Libraries of the Western World, 2009.
https://www.soas.ac.uk/library/
https://london.ac.uk/senate-house-library
https://t24.com.tr/yazarlar/tayfun-atay/vay-kitapsiz-universiteler-vay,24554