The Princh Library blog provides library stories and insights from around the globe. The blog is brought to you by Princh, the only printing solution designed specifically for – and with – libraries! Our user-friendly printing solution makes it easy for library users to print and pay from their own device. Try out our solution risk free for 30 days or watch a short video to understand how we can help your library here! Now let's get to the blog!
Services to help public libraries maintain social distance
All of us have been touched by this pandemic in several different ways. Our daily lives, behaviors, and the way we interact with each other has changed. While the world is practicing social distancing to slow the spread of COVID-19, cities are shut down and many businesses are closed.
Unfortunately, public libraries around the world are also closing. As a free public space anyone can visit without the expectation of making a purchase, gatherings are very common, which is unsafe both for visitors and staff in this time. For many libraries the decision to close their doors to the public was very hard, they are accustomed to being the safe place where everyone is welcome. Though they have closed their physical facilities, many are still trying to serve their members in different ways. For a run-down of several libraries' initiatives during social distancing check out one of our previous posts.
In these hard times, technology has become more essential, allowing us to communicate, to work and to be entertained. Today´s post is about two different services that can help preserve social distancing at public libraries, therefore protecting librarians and library visitors: Princh and Make Way for Books.
Princh
Printing is a common and attractive service offered by most libraries, and since it is typically a paid service, steps should be taken to minimize the risks associated with handling of payments. In general, the extend of interaction between staff and visitors that takes place to facilitate the use of the print service should be minimized – Princh can help you do that.
Princh offers a self-service, mobile printing solution developed specifically for public libraries, which can help protect both staff and visitors by:
Reducing physical interactio
Eliminating manual over-the-counter payments
Reducing the use of public computers
Our solution allows library visitors to serve themselves by easily printing and paying from their own devices (phones, tablets and laptops) without the need to interact with library staff. They also have access to multiple options for payment: Bank cards, PayPal or mobile apps.
The Princh App is available for free on both Android and iOS devices, and will help visitors to effortlessly locate a library using our 'Find a Printer' map. This feature will let them know the library's opening hours and the printing prices you set.
Best of all, Princh is installed and ready to use in just 15 minutes.
Princh COVID-19 initiatives to support libraries
In Sweden, libraries have so far remained open throughout the COVID-19 crisis. This has required timely and diligent adaptation by staff to the situation at hand. Princh recognizes the extensive successful work done by these libraries and since we see an opportunity to help minimize the risk to staff and visitors, we are currently offering Swedish libraries to implement and use our mobile Printing solution free of charge until September.
We are looking into extending this initiative to libraries in other countries and would appreciate YOUR INPUT and feedback. Specifically, we would like to hear from if you think that this might be useful and helpful for your library or other libraries in your country. Please send your input and feedback by filling out this form.
For information about how Princh has helped libraries around the world improve and automate their printing services you can have a look at some of our customer stories here
Make Way for Books
Creating regular reading habits early in life can bring many benefits to children as they grow and they are more likely to enjoy reading later in life. Check out our previous post "The Library & Early Age Reading Habits" to find out more about why it's important to encourage kids to read.
There are several creative and fun ways to help children develop good reading habits and Make Way for Books can help!
Many libraries offer Storytime and other activities for children and their families at their physical facilities. Due to COVID-19, it is not possible to do this right now. Make Way for Books is a free App created to ensure that families with children up to 5 years old have access to free, effective, and bilingual literacy. With the app, families can download free books organized by children's age group, they can also find educational videos, activities and tips on how to connect books to simple activities that will build children's skills and help them get ready for school.
You can download the Make Way for Books app for Android devices here or for Apple devices here.
Since gatherings are not recommended at this time, Make Way for Books has created a free bilingual online Storytime livestream for young children and families, where they read books, sing songs with movement, and share tips. To join Make Way for Books Online Storytime, click here.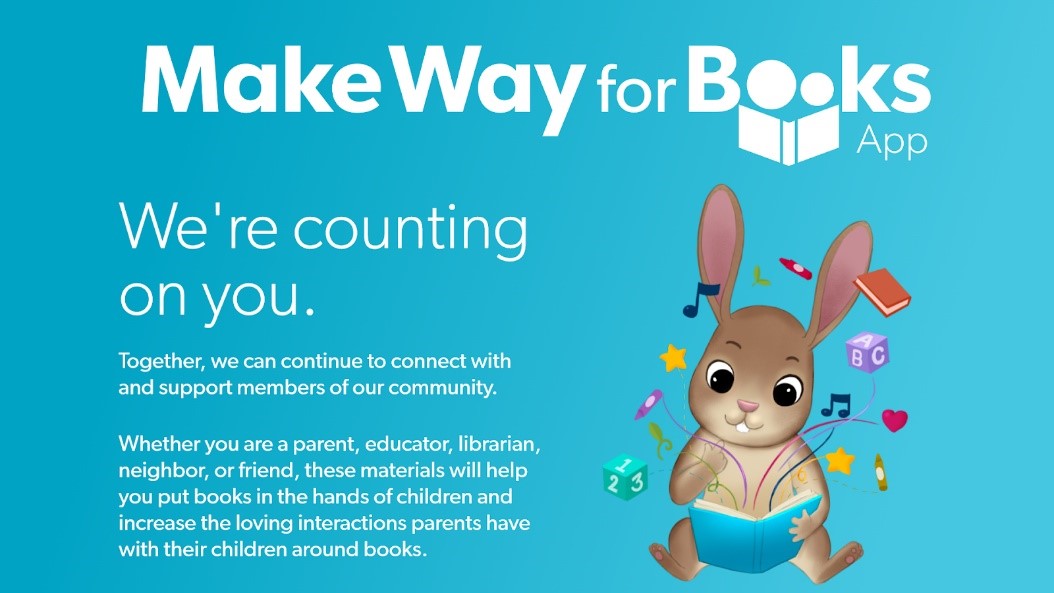 For more information about Make Way for Books and how they have been collaborating with libraries, read our previous post "Make Way for Books at Your Library".
It´s Time to Adapt
All of us have been facing changes in our personal and professional lives, but it is important to adapt to these weird times we are living in. Technology and online resources are playing an even more important role in our daily lives facilitating ways to allow professionals to keep doing their job in the safest way.
Library services
Public libraries play a very important part in the communities they serve, and we hope that, with suggestions like Princh and Make Way for Books, they can still fulfill this vital role and not be forced to close completely in this uncertain time.
Look out for part two of this post with even more suggestions, coming next week!
https://princh.com/services-to-help-libraries-during-and-after-covid-19/#.XqrmpGgzZnI
The Princh Library blog provides library stories and insights from around the globe. The blog is brought to you by Princh, the only printing solution designed specifically for – and with – libraries! Our user-friendly printing solution makes it easy for library users to print and pay from their own device. Try out our solution risk free for 30 days or watch a short video to understand how we can help your library here! Now let's get to the blog!
Part 2
Currently the majority of libraries around the world have closed their physical buildings to the public.  Because we know how important libraries are for their members, we want to help librarians discover new ways to adapt to this COVID-19 situation and help them continue to serve their communities, protecting both staff and library members during and after this situation is over.
This is the second part of last week's blog post, if you haven´t read it yet, you can check it out here.
Social Media Platforms
Social media offers many benefits for companies, mainly because having an online presence is definitely a crucial component of any marketing strategy and a great way to communicate and keep in contact with the community, especially during this time where physical facilities are not recommended to be open to the public.
For any library that hasn't had the time to put a considerable effort into social media platforms, maybe this is the right time to do it. Grow the library's audience and build strong relationships with them.
Libraries around the world are doing an incredible job adapting during COVID-19 and social media platforms such as Facebook, Instagram, YouTube and Twitter are helping them to innovate their services, and most importantly, demonstrating that libraries are not just about books.
Updating the platforms everyday with useful and valuable information is very important. One might wonder—what is the best way to interact with the community, throughout these special times we are living in?
Well, here are some suggestions:
Instagram, Facebook and YouTube offer the opportunity to do real-time video broadcasting, which can effectively boost interactions with followers. During the live video, viewers can leave comments and questions that can be answered straight away. Many libraries are using this feature to do Q&A about several topics or even holding story-time sessions for families with younger children.
For those who don't feel comfortable being in front of a camera doing a live video, just record it instead and post it on social media. Many libraries have made their podcast available on YouTube and their followers can listen to it whenever suits them best.
Another option is to create a new program, like BookBound 2020 – a literacy festival that brings authors and book-lovers together. They offer the opportunity for people to view their events such as readings, story-times and live author-to-author conversations for free on their YouTube channel.
Recorded Books
Many libraries are offering digital resources to their members and RBdigital is an example of  a service which can enrich any library's digital offerings. The app is available for both Android and iOS devices.
Recorded Books was founded in 1979 and has been working together with libraries and schools, by providing them digital content, through the RBdigital platform, and physical productions, which include CDs and MP3-CDs.
RBdigital offers eBooks, audiobooks, magazines and comics, newspapers from over 100 countries and in 60 languages, and users can translate the original into more than 16 languages. They also offer entertainment, including educational materials as well as health and wellness content.
Google arts and culture
Google arts and culture works with several institutions and artists around the world with the goal of making different types of art and culture available for everyone, anywhere. Right now, they are supporting over 1400 cultural institutions across 70 difference countries.
Just download the app, it is available on Google Play and App Store, or visit their website to gain access to museum collections, art galleries and other cultural institutions.
Google Cultural Institute builds free tools and technologies for cultural institutions to showcase their treasures. Individual libraries can develop a partnership with them and publish their in-house collections online for free, or even create a virtual tour through the institution. In this way, people from the community and around the world can appreciate art housed anywhere across the globe or in their own town. This is a great option to help combat the isolation many are experiencing during this time of quarantine and social distancing.
Libraries overcoming COVID-19
Librarians will always give their best to the communities they serve and in hard times they will provide support for their members no matter what. This COVID-19 crisis has been a challenge which libraries are equipped to overcome by implementing new ideas and offering more digital content.
Libraries are proving they are more than just books, they are a place for new opportunities, to experience new ideas and a place to build relationships.
https://princh.com/services-to-help-libraries-covid-19-part2/#.XqrmqmgzZnI