Virtual Reality (VR) technology brings its users into an immersive experience, and provides a new way of learning for students all over the world. Guest writer, Andrea Trudeau, discusses the benefits of VR technology and resources libraries can utilize to implement it into the education of students.
"Mirrors, Windows, and Sliding Glass Doors"
As librarians, we recognize the power of books and their spellbinding ability to transport individuals to worlds that may be much different than their own; it's why many of us consider ourselves bibliophiles and share our love of books through the invaluable work we do in our communities. After all, books provide "Mirrors, Windows, and Sliding Glass Doors," a powerful metaphor coined by Dr. Rudine Sims Bishop in 1990 that has become a key tenet in developing a diverse library collection. The "mirrors" allow individuals to find themselves in books and thus feel seen and validated; the "windows" in books give individuals an opportunity to be passive observers of another world, validating others' perspectives; and with "sliding glass doors," individuals may step into and be immersed in a whole new world, allowing them to experience it from another's perspective and gain a rich sense of understanding. These "mirrors, windows, and sliding glass doors" are critical for developing empathy – a skill we need now more than ever in our increasingly globalized and politicized world.
When Dr. Bishop created this timeless metaphor over three decades ago, she did so with books in mind. As we all know, library collections of today encompass much more than solely books with modern-day librarians regularly harnessing the power of technology with patrons. One such technology – virtual reality (VR) – allows users to place headsets on their heads and be immediately transported to and immersed in another world. In turn, this allows users to explore the world around them and within them, the space well beyond our world, and even imaginary worlds, which both embody and extend Dr. Bishop's metaphor. (You can learn more about the capabilities of using VR in this sketchnote.)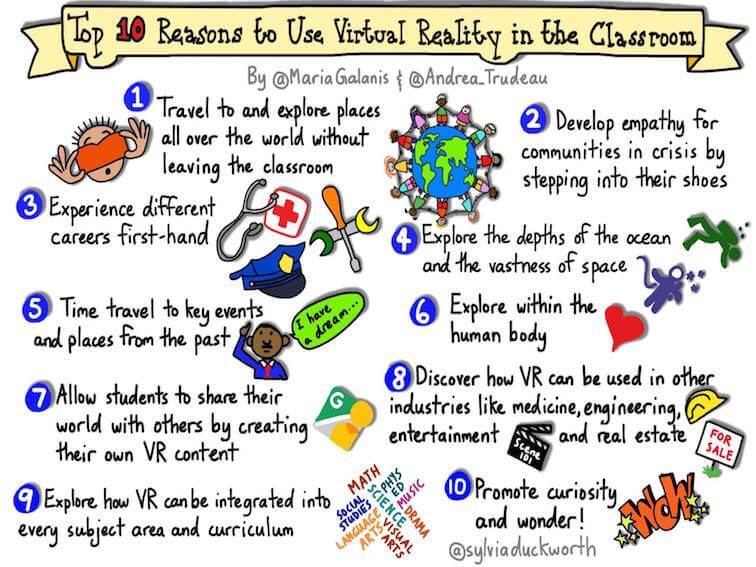 10 Reasons to Use Virtual Reality in the Classroom by Maria Galanis, Andrea Trudeau
According to VR research, immersive VR leads to a greater sense of presence, higher levels of engagement, and stronger emotional responses–even weeks after viewing a story in VR. Chris Milk, an immersive storyteller, called VR the "ultimate empathy machine" in his 2015 TED Talk. By bringing VR technology into our libraries, we have the ability to provide our library patrons with transformative, modern "sliding glass doors."
Helpful resources for getting started
If you haven't used VR before or this technology is still fairly new to you, the good news is there's a great deal out there to support you in getting started. My greatest advice to someone just starting out is simple – start small. My first experience with VR involved just a few inexpensive Google Cardboards and an app called RYOT that students downloaded on their smartphones (with parent/guardian permission) for a learning station in a 7th grade social studies class. Since then, my students have explored Anne Frank's house, experienced deep breathing with a panda as their guide, and seen life through the eyes of child refugees from the Ukraine, South Sudan, and Syria – just to highlight a few. These VR experiences are brief – lasting usually no longer than 15 minutes – and have a clear purpose of supplementing a novel study or a particular curricular topic or lesson. Each time the students have the opportunity to participate in a VR experience, they are filled with enthusiasm and excitement – just as they are the first time they try it. However, anytime I offer virtual reality as an option to students, I also make sure to offer an alternative such as a 360-degree video that can be viewed on a tablet or laptop since a very small number of individuals may experience motion sickness or feel uncomfortable wearing a head-mounted device.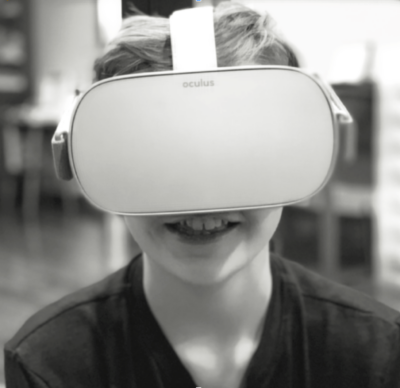 A Child Wearing a VR Headset by Andrea Trudeau
Fortunately, there is a great deal of pre-created content ready for consumption – whether it is downloading free or paid apps on a smartphone and then inserting it into a VR headset such as Google Cardboard or Merge or using an all-in-one VR headset with handheld remotes like the Meta Quest 2. It's helpful to explore or engage in conversations on social media to learn which apps and tools librarians and educators are having success in using. Twitter, in particular, is a helpful platform to learn from others; check out the hashtag #ARVRinEDU to explore posts related to this topic and pay close attention to the hashtag's creator – a trailblazer in the VR educational landscape named Jaime Donally. She literally wrote the book on it and regularly shares helpful information on her website and on Twitter. If I'm ever looking to try something new, I often turn to her tweets or website for ideas. I have also curated a Padlet of helpful resources to help educators and librarians get started, which you can explore for ideas as well.
Creation tools for customized education
Once you feel more comfortable with VR and are ready to move beyond consumption-based tools, I would highly encourage exploring creation tools. One invaluable tool for creating both VR and augmented reality (AR) content is CoSpaces EDU. This web-based tool with both free and paid versions allows users to create their own VR and AR worlds; it also has a variety of options to support novice users while also challenging tech experts. CoSpaces EDU includes preloaded content in the Library that can be dragged and dropped into the building space and vast personalization features that allow the user to customize and even animate their characters and objects. Furthermore, these worlds can include integrated text, audio, and even coding features! CoSpaces EDU is a fun and unique way for users to create stories, tours, or games and build models or simulations. More recently, they have partnered with Merge, so users can even build on or within a Merge Cube and hold their world in their hands!
Conclusion
By harnessing both consumption-based and creation-based virtual reality tools with students, 21st century librarians have the ability to complement reading, research, and lessons in order to deepen individuals' knowledge, promote empathy and understanding, and ultimately help them better understand the world around them and those who reside on it.
"The highest form of knowledge is empathy."
Bill Bullard
Andrea Trudeau
Andrea Trudeau, M.S.Ed, NBCT, is a no-"shh" librarian who has 24 years of experience in education. She is a 2022 Fulbright-Hays Scholar who will be teaching high school students in both Tanzania and Kenya this summer, and she is the 2020 AASL Frances Henne Award Winner. Currently, she is a Ph.D. student in Instructional Technology at Northern Illinois University and is researching the effects of virtual reality on adolescent students' empathic responses. To connect with Andrea, you may e-mail her or follow her on Twitter. Also, check out her website at https://www.noshhlibrarian.com