Web of Science ve Scopus atıf indekslerini kullanmaktan çok hoşlanıyorum. Elimi ne zaman bu iki atıf indeksine atsam, yeni bir şeyler keşfedebiliyorum. Bu iki mecra, benim için bir laboratuvar gibi. Yazılarımın önemli bir kısmı da bu iki indeksten beslenerek ortaya çıkıyor. Bu iki indeksteki bilgi birikimim giderek artıyor. 10.000 saat kuralındaki süreyi geçeli çok oldu. Belki bir ders kitabı ya da bir giriş kitabı yazacak kıvama geldim diyebilirim.
Web of Science ilk göz ağrım. Onu çok seviyorum; ama Scopus'un yenilikçi ve atılgan tavrını da çok seviyorum. Gönül istiyor ki, ikisinin karışımından bir sinerji yaratılsa ve ortaya da her ikisinin isminden uyarlanarak Web of Scopus ismiyle daha güçlü bir kaynak çıksa. Bildiğiniz üzere sinerji yaratmak demek, en basit tabirle bir ile birin toplamından üç elde etmektir. Buradaki maksadımız da tam buna örnek bir uygulama olarak karşımıza çıkıyor. Her ikisinin en güzel yanlarını alarak bir de bunlara bu iki veritabanında henüz olmayan; ancak bir kullanıcı olarak, görünmesini istediğimiz özellikleri de eklediğimizde çok daha güçlü bir atıf indeksini ortaya çıkarmak mümkün.
Web of Science'ın kaliteye verdiği önem ya da mükemmeliyetçi yaklaşımı, dergileri indekslerken çok seçici oluşundan anlaşılabilmektedir. Scopus'un neredeyse yarısı kadar yayını indeksliyor. Yine bunun yanı sıra konu başlıkları konusunda muazzam bir çeşitlilik ve zenginlik sunuyor. Konu başlıkları ile ilgili yeni özellikler ekleyerek de bu gücünü ulaşılmaz kılma yolunda emin adımlarla ilerliyor. Scopus ise bu konuda dar alanda kısa paslaşmalar yapıyor.
Web of Science basit arama kriterlerini çok geniş tutarak neredeyse gelişmiş arama özelliğini kullandırmıyor bile. Gelişmiş arama kısmında da, bu sefer Scopus devreye giriyor. Hayatımda tanık olduğum en başarılı gelişmiş arama yöntemini Scopus'ta gördüm. O kadar çok çeşit sunuyor ki kullanıcıya, inanılmaz analizler yapabiliyorsunuz.
Web of Science, çıkan sonuçları excel'e kaydetmek istediğimizde kullanıcının başını ağrıtmadan kullanıcı dostu bir yaklaşım sergiliyor. Scopus, bu anlamda kullanıcıyı biraz uğraştırıyor.
Web of Science'ın son güncellemelerinde, çıkan sonuçları yayınevlerine göre sort etme seçeneği sunması, ufkumuzu açıyor ve bize yeni analizlerin kapılarını aralıyor. Scopus'ta henüz bu özellik yok.
Web of Science'ta, sonuçlar üzerinde analiz yapılacağı vakit, çoklu verilerde yanılgıya düşmenizi engelleyen özellikler var. Örneğin aşağıdaki görselde pek çok başlık var; ancak bazen yer darlığından dolayı bütün başlıklar bu listede yer almayabiliyor. Siz sayfa içinde klavyeden ctrl+f yapıp tarama yaptığınızda bu listenin görünmeyen kısımlarındaki alandan tarama yapamıyorsunuz; ama aşağıdaki görselde kırmızı ile gösterilen bir arama kutucuğu sayesinde istediğinize ulaşmak mümkün. Bunun yanı sıra yine aşağıdaki görselde göreceğiniz üzere, yeri geliyor bir "Select all" seçeneğine bile çok ihtiyaç duyuyorsunuz. Onun da aktif olarak yer alması güzel bir özellik. Scopus'ta da bu özelliği görmeyi isterdik. Bununla birlikte her ikisinde de aza ya da çoka göre sort yapmasını bir kullanıcı olarak görmek istiyoruz. Örneğin Scopus yayın yılı açısından Web of Science'tan çok daha geniş; ancak bütün yılları ilk etapta göstermiyor. Bu da şöyle bir tespitte bulunmamıza neden oluyor: Doğru ama eksik bilgi. Diyelim ki ben bütün veriler üzerinde bir analiz yapıyorum. Bu verilerin hangi yıllara ait olduğunu görmek istesem, ilk sayfadaki yıllar beni yanlışa sevk edebilecektir; ancak ben, var olanları "Select all" seçeneği olmadığı için tek tek seçip exclude butonuna tıkladığımda geri kalan yılları ikinci aşamada getiriyor karşımıza. Bu şekilde bir çözüm üretemeyen bir kullanıcı, doğru olduğunu sanıp eksik bilgiyle yetinebiliyor.

"Sort by" kısmı çok zengin seçenekler sunmaktadır. Örneğin Web of Science'ın son sürümünde eklenen ve her bir makalenin sağında yer alan "referans"ların da görülmesini, faydalı bir özellik olarak doğru bulmakla birlikte neden "sort by" kısmında Referanslara göre de sort edilmediğini merak ediyoruz. Madem böylesi güzel bir özellik eklenmiş, biz de bundan faydalanmak isteriz. Örneğin kendi üniversitemde en çok hangi yazarlar kaynakça kullanıyor bilgisini otomatik olarak görmek ve devamında farklı analizler yapmak pek hoş olurdu. Scopus'ta da yayınların referans bilgilerini gösterme ve birden fazla yayının referanslarını tek bir yerde görebilme seçeneği varken, bu güzel özelliklerini içeride bir yerlerde muhafaza etmişler. Bence bu özelliği gün yüzüne çıkarmaları gerekmektedir.
Her iki indekste yazarların makalelerinin her birinin self citation'ına bakmak istediğimizde, Scopus bunu doğrudan verebiliyorken, Web of Science veremiyor. Web of Science'ta tek tek bakmamız gerekiyor.
Yöntemleri farklı olsa da her ikisi de eksik atıfları gösterme konusunda başarılılar.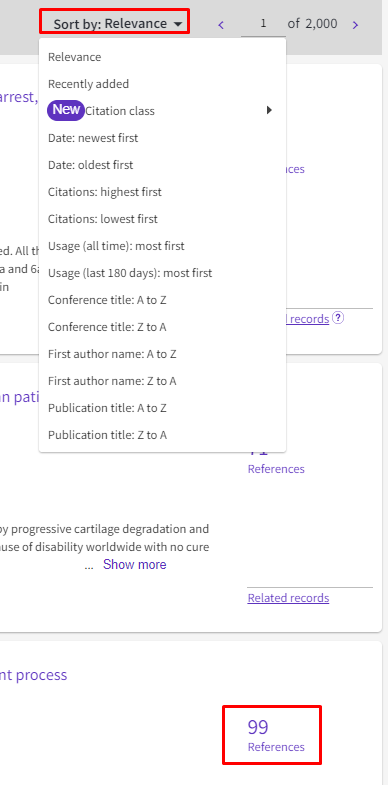 Tarama içinde tarama yapabilme seçeneği, kullanıcının o kadar çok işine yarıyor ki, süreli yayınlar ya da web keşif araçlarında yapamayacağınız örneğin aynı anda birden fazla dergide tarama yapabilme ya da konusu bilgi bilimi olan bütün yayınların içinde tarama yapabilme imkanı müthiş bir özellik.
Bi' oturuşta aklıma gelen özellikler bunlar. Aslında ben sadece buzdağının görünen kısmıyla yetindim. Tek bir özellik üzerinden bile bir yazı yazılabilir. Uzadıkça dikkatiniz dağılır, endişesiyle burada bitiriyorum. Hem Web of Science'ın hem de Scopus'un çok kullanışlı özellikleri var. Bütün bu özellikler tek bir atıf indeksinde yer alsa harika analiz deneyimleri yaşamak, işten bile değildir.
https://www.bbyhaber.com/bby/2022/12/29/hayalimdeki-atif-indeksi-web-of-scopus